LINGOTTO
Built in 1915 by Giacomo Mattè-Trucco, the Lingotto building was once FIAT's original production plant.  Located in the district of Nizza Millefonti in Turin, the plant produced dozens of car models including the Topolino, the Balilla, the Torpedo, and the Fiat 1100R and the more recent Lancia Delta. But production ceased in 1982 following the relocation  to other facilities.
In the same year, following a joint venture led by FIAT efforts were made to promote the plant restructuring and recovery, though none of the 20 projects presented were ultimately selected. The project was finally granted to the Ligurian architect Renzo Piano in 1985, who transformed the old production plant into a true product of industrial archaeology. The Plant was thus divided into functional sectors: tertiary. residential, hospitality and cultural and whilst the building exterior remained unchanged, the interiors were considerably modified to meet the new requirements.
Thanks to the latest additions of the Lingotto Fair Centre in 1992 and the Shopping mall "8 Gallery" in 2002, Lingotto is now undoubtedly considered a true phenomenon of reconversion, a 'city within a city', where one can sleep, listen to classical music concerts, wander around the stands of international fairs, eat & drink, go shopping or go to the cinema. The Lingotto Fair Centre in particular, comprises a large exhibition area that hosts prestigious events like the Book Fair and the Food Fair (or Salone del Gusto).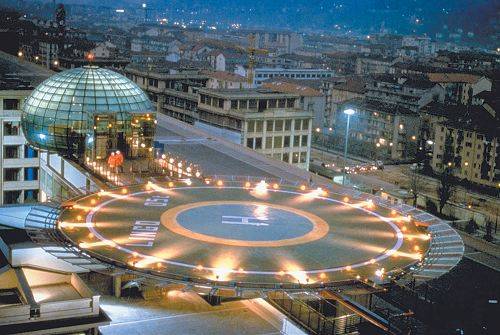 But the most sophisticated and technological part of the building is reserved to the "Pinacoteca di Giovanni and Marella Agnelli", an elegant picture gallery built high above the North Tower, in which 25 works by great artists such as Picasso, Dalì, Matisse and Canaletto, of inestimable value and never previously exhibited to the public, can be admired.